Custom Fashions
Consider creating your own line of embroidered fashion items to mix and match. A simple black knit dress is quickly transformed into a unique fashion statement with the addition of embroidery. Go a step further and embroider a shawl and handbag with matching designs.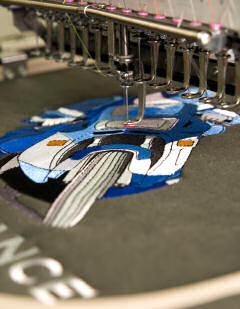 Develop a limited number of designs, which can be embroidered on a variety of items in various colors. Check out the suppliers to see what's available in the way of clothing. There are dozens of companies offering complete lines of inexpensive knit goods. These suddenly become more valuable when embellished with beautiful embroidery. Let your imagination run wild. Think bright colors, metallic threads, splashy designs. People are always looking for something different.
You also need to determine how you will sell your creations. There are several options. You could work with existing retailers to carry your line. Or, you could open your own location, create a catalog or sell over the Internet. Do your research and determine what will best suit your particular needs.
Other markets you should target include :
You've zeroed in on your market, it's time to make a plan.